Specialists remain the most sought-after professionals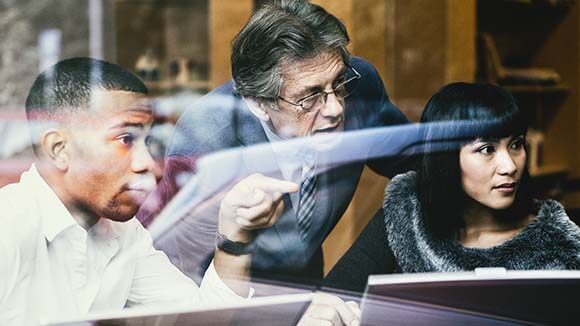 Demand for financial services professionals remained high throughout 2017 despite many firms focusing on cost reduction. The 19th edition of our Salary Survey reveals that the on-going digitalisation of businesses created a strong growth in recruitment activity and we expect the demand for top-tier professionals and specialists to further increase.
How will the banking & financial services sector evolve this year?
By reviewing the latest trends, we'll summarise the outlook for 2018.
Digitalisation continues to be a major focus
Digitalisation projects and the growth of the tech sector created a widespread demand for IT, marketing and other specialists who could help improve and develop the online customer-facing functions of banks and financial services firms. Over the course of 2018, digitalisation specialists will be the most sought-after professionals as employers look to embrace new developments in e-commerce and fintech.

Recruitment activity remains high for many financial services professionals
Regulatory pressures helped to shape recruitment strategies, with internal auditors and compliance professionals in demand. In addition, many firms looked to grow their market share as economic conditions improved, driving demand for relationship managers. Other profiles such as performance managers, cost controllers, accounting and asset managers were also highly sought after.
Within the insurance sector, businesses were also highly active in recruiting, with transformation projects spurring demand for project managers as well as digitalisation and data analytics specialists. Family offices and holdings were in search of investment analysts and controllers while relationship managers were required by asset management firms.
Securing top talent will continue to be a challenge
Attracting high calibre candidates will remain a challenge in 2018. To secure top talent, we advise hiring managers to develop and maintain a strong employer brand as part of their recruitment strategy. Salaries will largely remain stable but on-going digitalisation as well as steady market expansion are set to drive salaries for certain highly specialised roles in digitalisation and data analytics. Employers looking to secure top talent within these fields will need to adapt their offers in order to remain competitive.
Looking to hire staff this year?
Request a free copy of the 2018 Robert Walters European Salary Survey to benchmark salaries .