Life after Big 4 - A guide to help you make the right career move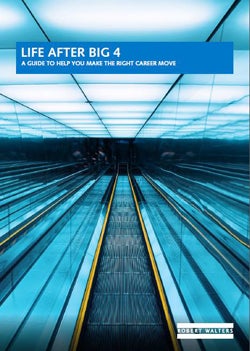 Working at a Big 4 firm is the goal for a lot of finance graduates. Very few careers, if any, are able to expose professionals to so much so fast.
Presented with new challenges on a daily basis and perceived by most employers as a way for graduates to extend their finance education, your Big 4 journey has allowed you to develop a wide range of hard and soft skills which will make you highly coveted by virtually every other company looking to recruit in Belgium.
Having jumped on-board the Big 4 wagon directly following your studies, it might however be intimidating to leave the comfort of this environment and put yourself out there on the Belgian job market.
Gathering knowledge from their own Big 4 experience, our colleagues turned to a selection of clients and candidates in Belgium for a guide to provide you with a clear overview of the options available when considering leaving the Big 4.
Bridgestone Europe's Director FP&A EMEA, Ideal Standard's Head of FPA & Controlling and Spadel's Group Controller helped us take a closer look at some career options that will help you make the right longer-term career choice.
Contents of this guide in a nutshell:
Should I stay or should I go?
When is the right time to leave?
Four myths about leaving a Big 4
What are your career options?
Four tips to help you find a job
Ever considered a career in recruitment?