Your complete interview guide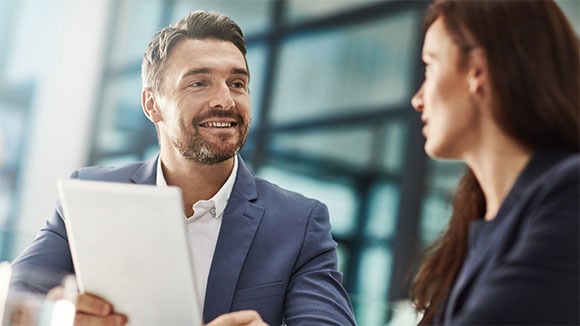 Got a big interview coming up? The better prepared you are, the more confident you'll be.
From the best ways to prepare to how to answer the most common questions to how to close the interview successfully, follow our expert end-to-end overview of the whole process to get ready for your next job interview and come one step closer to landing the job of your dreams.

1. Preparation, preparation, preparation
One of the most common things people get wrong when asked what they know about the company is to recite facts and figures from the company website. What employers look for is someone who demonstrates they've put in extra research by discussing something relevant, unique and interesting about the company.
As soon as you know your interview date, start working on your research:
Look up your new company - Research its history, mission, financials and competitors. Check out its social media presence and employee reviews. Don't forget to look at its latest news, services and product reviews too.
Review your employment history - Don't forget to think back over your current and previous companies, and to review your key achievements at each.
Prepare questions to ask - Asking an employer questions is crucial to show that you are motivated. You might want to ask about career development and training opportunities, the company's plans and about any topical issues that could affect its performance or its future.
2. Make a strong start
Don't be late! Arrive 10 minutes early, present yourself at the reception and wait patiently until your interviewer has called you in. Look at your body language – are you tense and nervous or relaxed and poised? Close your eyes, take a few deep breaths, and make sure your muscles aren't clenched.
Enter confidently - Shake hands firmly and sit down when asked. Find a relaxed position in your chair, but make sure you stay focused and alert at all times.
Show off your interpersonal skills - Make eye contact, and don't forget to smile. Use non-verbal cues such as nodding to show that you are listening actively to what your interviewer is saying. Respond to questions with full answers, and don't be afraid, when appropriate, to steer the conversation towards the key points you want to make.
3. Prepare answers to common questions ahead of time
Although no two job interviews are alike, there are some common interview questions that you can almost guarantee will come up, in one form or another. Preparing well thought out answers that you can deliver with confidence can help you calm your nerves and master the interview process. Make sure you're however properly listening each questions and tailoring your answers as needed – you can prepare but you need to understand the nuances of the person interviewing you. You may have great intentions of what you plan to say in the interview but don't force it if it's not natural.
4. Competency-based questions
This is the part of the interview where you'll be asked detailed questions about your experience. This could well involve scenario-based questions, where you'll be asked to give actual examples of work situations you've found yourself in.
Give specific examples, for instance showing how you were flexible, adaptable under pressure, and prepared to go the extra mile to get the job done.
Finish strong but don't cover up difficulties. Your story will have more credibility if you don't shy away from the challenges and setbacks you encountered. But make sure you conclude with a positive outcome that emerged as a result of your efforts, such as a satisfied client, an improved way of working, or a proven commercial benefit.
Don't panic if your mind goes blank. Take a deep breath, clear your throat, and have a sip of water. Take a pause and gather yourself before you begin again.
Don't worry if the interviewer probes your answer. It shows they're interested in your story, and want you to make it even better.
5. Closing the interview
The final impressions you make are almost as important as your first ones.
Take the opportunity to ask questions. When invited, ask two or three insightful questions that underline your interest in the role and the company. Avoid questions about salary and bonus – look instead to ask questions that reveal a motivation to add value to the company.
Stay polite and professional. There may be some more small talk towards the end of the conversation. Don't get too relaxed – this is still part of the interview, and you want to leave a positive and professional impression. Shake hands firmly, maintain eye contact, and project a professional image as you head off to your next commitment.
Don't forget to follow-up. Always send a brief, prompt email thanking the interviewer for their time, and alerting them to any changes in your movements or contact details should they wish to come back to you.
Interview don'ts:
Ace your interviews by avoiding the five mistakes job seekers most commonly make.