Is your business geared up for remote working?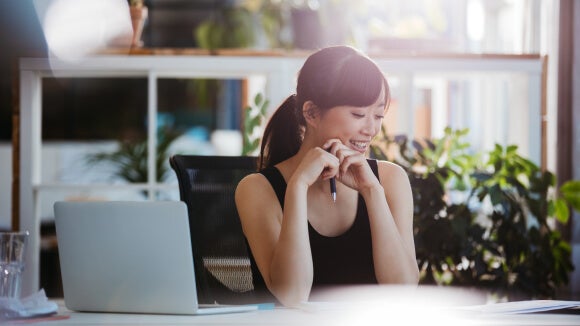 Today's modern working environments are fluid and casual. A good work-life balance is championed, replacing the old-fashion strict and rigid working culture of the pre-1990's.
We used input from our broad network of clients - ranging from worldwide corporations to start-ups - to identify the key trends of a rapidly changing working environment. We see three key prominent factors that make up a truly smart workplace; digital infrastructure, flexible working policies, and workspace design.
Digital infrastructure

In the white-collar industry, over 80% of a person's role will be carried out digitally; via email, phone or online. Digital infrastructure encompasses all the technologies - platforms, systems and software - people use in order to be productive in today's workplace. It gives employees the tools they need to improve their communication, collaboration and connections with each other. It is the bedrock of smart working. If a company doesn't adopt the right digital tools and processes, then smart or remote working is not only hindered, but impossible to adopt in some cases.
The top four remote-working technologies, and the percentage of companies that have embraced their use:
Mobile devices (laptops, tablets, smartphones etc.) - 77%
Virtual meeting applications – 47%
Virtual Private Network (VPN) access – 39%
Company-wide messenger systems – 21%
Even in this digital age, remote collaboration can be difficult to achieve. But as connectivity continues to develop, so do the platforms and software available for employers and employees to connect on. At Robert Walters, we have years of experience in end-to-end digital solutions to help digitalise the recruitment process, across the Robert Walters Group this includes:
Electronic Shortlist
Utilising an industry-first data analyst team, candidate shortlists are delivered within 24 hours (contract roles) and 48 hours (permanent roles)
Testing Platform
A bespoke learning platform enabling us to test candidates' skills and capabilities on behalf of the client
Live Meeting Rooms
Ability to facilitate a remote live interview between client & candidate, with full transcript provided afterwards
Digital registration
A truly digitalised registration process moving towards best practice, ensuring that there are no gaps in the candidate's work history or rights to work
If applied effectively, workplace flexibility puts freedom and autonomy in the hands of the employees, allowing them to determine their work schedule among other priorities. Research highlights that flexible hours generate high satisfaction, and allow employees to be more focused, dedicated and productive.
Flexible working
Flexible hours and working from home are top-rated work perks for Belgian employees, with over half of employees rating this as highly valued workplace benefits.
How flexible working policies impact professionals:
increases motivation
creates a better work-life balance
allows employees to be more focussed and productive
Here are some tips for employers to help overcome concerns around flexible-working arrangements:
Changing from behaviour-based to outcome-based assessment: On a day-to-day basis, managing smart working requires a move from behaviour-based monitoring to outcome based mindset. Instead of only assessing performance according to what an employee is seen to be doing, managers should take their team's output or other deliverables into account and establish an environment of mutual trust.
Devising innovative alternatives to face-to-face communication: Flexible working can create communication challenges, as employees may feel less connection with each other. This can lead to a lower sense of belonging. In addition to setting weekly meetings when the team can get together, we also advise managers to use alternative tools such as instant messaging and virtual meetings to foster communication.
Create an open culture of flexibility: Companies should also create a culture where employees do not feel they will be disadvantaged by flexible working arrangements. Some new joiners may struggle to learn if their manager or team members are not around. Managers are strongly recommended to discuss flexible working arrangements openly with all team members to ensure that everyone is treated equally.
Beware of 'burn-out': With the use of mobile devices, the line between work and private life is blurring. Managers are advised to conduct reviews to ensure remote working employees are not working excessively as this can lead to high stress level and 'burn-out'.
Workspace design
According to the Robert Walters survey, employees think a smart workspace should have the following qualities:
80% - the design makes it easier to interact with colleagues
71% - able to easily communicate and access colleagues
66% - there is ample seating and space to work
We are starting to see some companies introduce "hot desks" and open offices to create an atmosphere that encourages greater collaboration between employees at all levels. One of the advantages of this is that this helps break down barriers and encourages more diverse thinking. The flip side is that noise levels can be a problem for individuals trying to concentrate on their work – as it is important to recognise that individuals all have different styles of working. A semi-open plan, on the other hand, provides open space where employees can work together easily, whilst also providing private and quiet places - such as phone booths or a quiet hub.
Depending on the nature of your company and specific teams, some settings may be more suitable than others. For example, our survey shows that more professionals from technology/innovation and banking space prefer an open-plan environment, whereas those from legal/compliance and human resources prefer closed plan.
More information?
Have a look at our other tips and advice.