Growth in the construction industry leads to a shortage of project engineers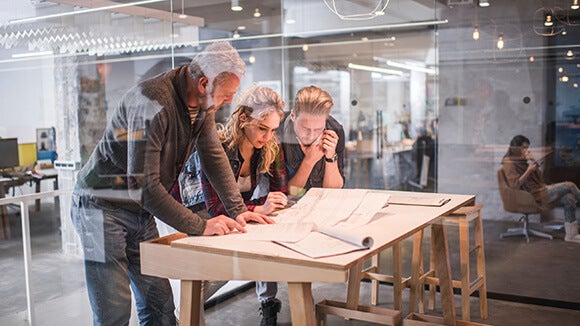 Belgium saw a substantial rise in the number of advertisements published for engineering jobs in the first quarter of 2017, reports Robert Walters.
The total number of jobs in engineering increased by 76% compared to the first quarter of 2016, with a strong growth in demand for project engineers (+43%) and project leaders in construction (+48%).
The increase was specifically notable in the Flanders region, where 2 out of 3 project engineer or project leader job vacancies were located.
Boom in the building and construction industry
Construction projects in Flanders such as the extension of the tram lines and port in both Antwerp and Ghent, new shopping centres and the plan to build a football stadium in Strombeek-Bever have all led to an increased demand for engineers in the construction industry. We've noticed a rising demand for experienced project engineers to manage these large-scale projects. Finding these profiles has proven to be quite difficult for HR Managers, in large part due to the necessary industry experience and language skills which they are seeking for. Since the majority of these project engineering jobs are located in the Antwerp region, the ability to speak Dutch fluently is often essential for the role.
Although Belgium has been facing talent shortages in the engineering industry for the past couple of years, plenty of experienced professionals from abroad are available.
Work-life balance
Whereas previously the nature and scope of a project was the prime motivation for project engineers looking for a new challenge, we are seeing a shift. Nowadays, engineering professionals tend to regard a good work-life balance equally important as working on an interesting project. Sometimes they even turn down promising opportunities if they're located too far from their homes. Many professionals do not want to spend more than 45 minutes commuting.
Talent from abroad
Although Belgium has been facing talent shortages in the engineering industry for the past couple of years, plenty of experienced professionals from abroad are available. But employers are not often recruiting foreign project engineers for projects in Flanders. The language barrier is the main culprit. Project engineers are in daily contact with local (sub)contractors and it's important to be able to easily communicate with them. Because technical documents are often only available in Dutch or French, it is also difficult to fill support roles such as quantity surveyors with talent from abroad.
It pays to specialise
Engineering professionals starting off with a support role such as quantity surveyor or estimator often aspire to quickly move into a project management role. This has led to a shortage of specialised, experienced talent in this domain. In neighbouring countries, quantity surveyors with several years of experience receive a very attractive salary, precisely because they have specialised further in their core activity. We would advise employers to pay due attention to their retention policy, offering for example additional education and training in order for their staff to specialise.
High expectations
Project engineers with several years of experience are well aware of being sought after and take full advantage of this when looking for a new challenge. They usually expect a generous remuneration package, flexible working hours, stimulating projects and opportunities abroad. Hiring managers must be able to 'sell' the job: What is it that makes this project so attractive? What opportunities for training and progression exist within your organisation? What personal development plans can you offer new employees? How can an experienced project engineer use his or her skills to succeed within your company? Offering the right possibilities and challenges will keep you one step ahead of the competition.
The reported numbers in this article are based on data from Jobfeed, a Big Data tool that analyses the number of unique vacancies posted in Belgium.
More information?
Do not hesitate to contact us for recruitment advice or if you need help in finding a project engineer for your next construction project.